Transition to Year 7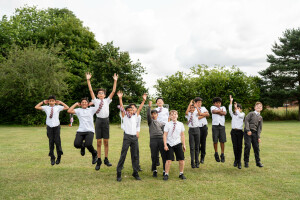 At Whiteknights, we recognise that although our journey with pupils ends after Year 6, the next phase of learning is about to begin. Consequently our team works hard to prepare pupils for their transition to Year 7.
The graphic below illustrates the variety of secondary schools our 2023 leavers have joined. *Click on image to enlarge/download.
When to apply:
Applications for secondary school places normally open September of each academic year and the deadline for application submissions on the 31st October. If you apply after this date, it is highly unlikely you will get any of your preferred school choices. Be sure to check the website of the borough in which you reside for key dates in the admissions process. 
How to apply:
You will need to apply online using the online admissions form for the borough in which you live.
How many schools can I apply for?
For Wokingham Borough Council, you may select four choices and you must rank these in your order of preference. Failure to name sufficient preferences in the hope of being allocated your first preference often leads to disappointed.
How do I choose a school for my child?
The best way to find out about each of the schools you are interested in is to attend one of their open events. These are a great opportunity to hear all about the ethos of the school and to take a tour of the school's facilities. You will be given opportunities to meet teachers and pupils and gain a feel for the school and whether it would be a good fit for your child. Each school's website will also offer lots of useful information, such as exam results and Ofsted Reports. Speaking to other parents can be useful, but please remember that the experiences of one child can be very different to another, so it is much better to visit the school and make a judgement yourself.
Read the Admissions Criteria for each school before you apply:
Each school has their own admission criteria which will be published on their website. It is vital that you read this before deciding whether to add that school to your list of choices.
Can I only apply for schools in the borough in which I live?
No, you can apply to schools in any of the surrounding boroughs to which you live. You can choose to list schools from other boroughs in your online application, but you would still apply through the online form for the borough in which you live. If you are applying to schools outside of your borough, please carefully read the admissions criteria and for all schools check the distance from your home.
Lastly, the borough through which you apply will have very helpful information on their website and a useful parental guide to navigate the process. 
We realise that the transition between primary and secondary school can be difficult for some pupils - if you have any concerns about your child's transition - please contact our inclusion manager, Mrs Reynolds, who will liaise with your allocated secondary school to arrange the appropriate support. 
After places have been allocated, we will provide your child's future secondary school with information relevant to their progress and any additional educational or pastoral needs they may have. By taking into account some practical and emotional considerations about your child's education you should both be able to negotiate the transition with ease and enjoy this milestone event.